Elise Christie missed out on the first Olympic medal of her career when she crashed out of the women's 500m at the Gangneung Ice Arena in Pyeongchang.
Christie was trying to barge through to third place on the penultimate lap of the competition when she appeared to catch Canadian Kim Boudin and toppled to the ice.
It was a further setback for Christie who suffered a triple disqualification nightmare at the Sochi Olympics four years ago.
Christie was awarded fourth place in the race after home favourite Choi Minjeong was disqualified, with Italy's Arianna Fontana taking gold, Holland's Yara van Kerkhof silver and Boudin being upgraded to a surprise bronze.
The 27-year-old Scot had burst through her quarter-final heat when the action resumed on Tuesday but was forced to rely on a photo-finish to squeeze through her semi-final in second place.
Her semi-final struggle meant Christie had to start the final in the unfavourable fourth lane and she paid the price, although she will get her second chance in the 1,500m on Saturday.
Christie told the BBC: "Just in my feelings, I was knocked over. I didn't fall on my own.
"When there's five people in the final, it doesn't given you any benefit when someone gets a penalty.
"It's tough. I worked so hard for the 500 and it's just been taken away from me.
"Even in the semi-final I got crashed in and ended up in lane four.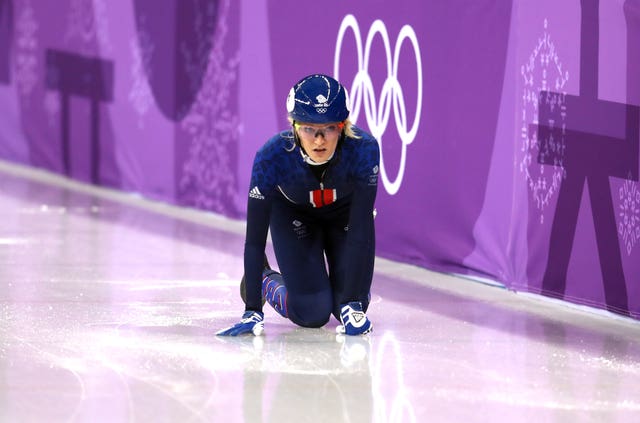 "I know it's short-track and I know I'm supposed to be prepared for this, but it still hurts."
Asked if she could come back in her next two events, she said: "Hopefully. I've got a few days to reset.
"Obviously it's still almost a week until my best distance, so that's a positive.
"Right now, I just can't see living with this feeling. It's out of my control. I got knocked over and that's that."